2017 Champion of Champions
Champion of Champions

2017 Champion of Champions
Sponsored by Snowbee
Keir Hardie Joinery
Fly Tying Scotland
The Lake of Menteith
Glencairn Crystal

2017 Champion of Champions
6th October 2017 - Lake of Menteith
The Champion of Champions final was held at the Lake of Menteith on Friday 6th October 2017 and was contested by 55 anglers. The anglers qualified for the final by finishing in the top five of a Saturday night heat of the Scottish Club Championship. If one of the top five was unable to attend the final then his place was offered to whoever finished sixth in that heat. Snowbee provided prize vouchers for the top three competitors while Fly Tying Scotland presented a pack of fritz to all 55 anglers. The Championship was also sponsored by the Lake of Menteith and by Keir Hardie Joinery who sponsored the hook measures that were used.
At the start of the match there were clear skies and a light breeze but within a couple of hourse it had clouded over and the breeze strengthened to a cold esterly wind. The match was entirely catch and release with the first three fish being measured and an allowance of 35cm was given for each additional fish caught.
A total of 244 trout were caught and released.
Top rod on the day was Allan McLachlan of Stirling Castle AC who had 13 fish for a total of 489 points. Allan started of at the Cages before moving to Lochend but later spent much of his day drifting from Chicken Leg Bay towards International Bay. He took his fish a cat and an orange blob fished on a mid glass line.
In second place was Jimmy McBride of SPRA East with 13 fish for 485.5 points. Jimmy started off at the Cages and later moved to the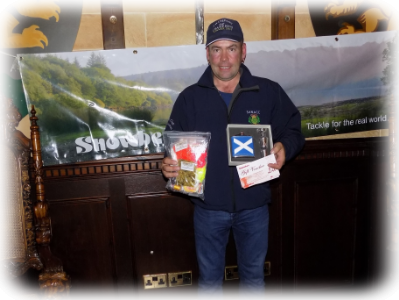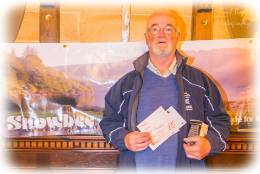 Rookery. His initial fish were taken fabs and boobies fished on a di3 followed by cormorants and fabs on a midge tip line. His last two fish were taken on dries.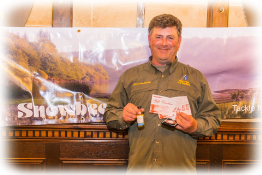 Brian Mackenzie of Neilston FF was third with 10 fish for 391.5 points and took his fish at the Cages and the Mallin Shore on boobies fished on a mix if line from a fast glass to di5.