spring 2019
Loch Internationals


Spring International
Scotland Team sponsored by
7plus7 Construction
Lake of Menteith
Fishers
Angus Angling
The Cornerstone, Hoist and Access Services Ltd, M McKenzie Skip Hire,
Jewson, Magnet Trade, Advance Construction and St Andrews Timber & Building Supplies.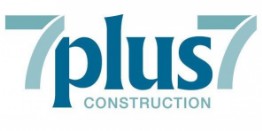 Spring International
Grafham, England - 10th May 2019
Match day at Grafham was fished in bright conditions with an occassional light breeze and areas of flat calm. The practice days had been cold with bright days, windy days and days providing a mix of torrential rain and hail.
England ran out convincing winners with four of their team in the top ten (Tony Curtis 16 fish - 3rd; Kim Green 16 fish - 4th; John Horsey 13 fish - 5th and Tim Joyce 10 fish - 7th) which went a long way towards their total of 109 trout for 229lbs 2ozs.
Scotland were second with 84 trout for 184lbs 13ozs with their top rod being Keith Renton with 9 fish for 19lbs 13ozs. Keith was 8th overall. This was a good team performance by Scotland with 7 of their team in the top 20. Derek Marklow was 13th with 8 fish; Ronnie Gilbert was 14th with 8 fish; captain Kevin McCabe was 15th with 7 fish; Andrew Barrowman was 17th with 8 fish; Grant Osler was 19th with 7 fish and Stuart McLean was 20th with 7 fish. Captain Kevin McCabe had the heavest fish of the day that went to the scales at 5lbs 3ozs.
Wales were third with 78 fish for 163lbs 7ozs. Their top rod rod Alan Banwell took the Brown Bowl with 17 trout for 33lbs 10ozs. Ireland were fourth with 70 fish for 148lbs 15ozs. Ireland's top rod was Nigel Greene with 17 trout for 33lbs 3ozs which put him in second place.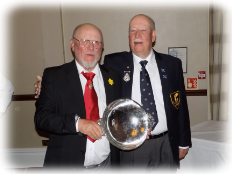 Alan Banwell, Wales receiving the Brown Bowl from IFFA President George Mackenzie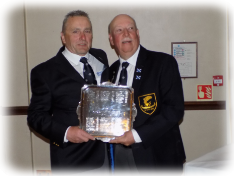 Keith Renton, Scotland receiving the Silver Salver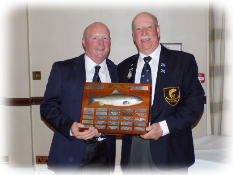 Kevin McCabe receiving the trophy for the heaviest fish
Keith Renton - Coldstream & District AA

7th - 9 trout for 19lbs 13ozs
Keith was drawn with Dewi Reece who won the toss and took them to Church Bay where they stayed for the day. They had various drifts inside the bay and came out as far as R buoy. Keith started off with a fab and three nymphs on a 6ft slow tip and had one straght away. He was soon 3 to 1 down and changed to a bung and steadily picked up fish. When things went quiet he changed to a 5 sweep but returned to the bung and at the end of the session he had 9 trout and Dewi had 8.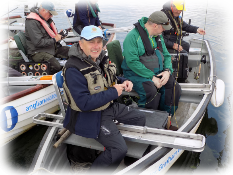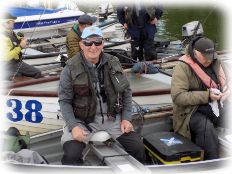 Derek Marklow - Loanhead & District AC
13th - 8 fish for 17lbs 8ozs
Derek was drawn with Tony Curtis of England who won the toss and took them to Church Bay where they stayed all day working the bay and the two points. Derek started off with nymphs on a 6ft tip and took a good fish. After Tony had dropped 2 and picked up 4 on the bung Derek changed over to a bung and Tony picked up 2 while he was changing. Tony finished with 16 trout and did nothing after 3pm. Derek picked up 7 on the bung to finish with 8
Ronnie Glbert - Menteith Ospreys
14th - 8 fish for 17lbs 3ozs
Ronnie was drawn with Darren Maguire of Ireland and having won the toss he opted to go to the area between C and K bouys. He set up with fabs and nymphs on a 12ft fast tip. Ronnie had 1 in that area and moved to G bouy which was unproductive. They moved to Pylon Point where he picked up 7 straight lining buzzers. They later tride G bouy before the end of the session. Ronnie finished on 8 and Darren had 11.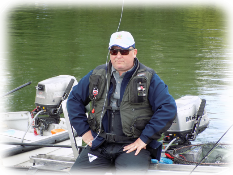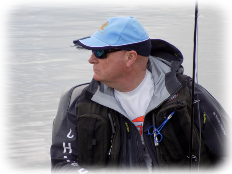 Kevin McCabe (Captain) - Change FF AC
15th - 7 trout for 17lbs 1 ozs
Kevin was drawn with Shay Cash of Ireland and they agreed to start off at the area between C & K bouys. They were not successful there and moved to Gaynes but finding the water to be dirty they moved to the area around G bouy where Kevin picked up a fish straight away on a 6ft tip and crunchers. After dropping a couple of fish they moved to Church Bay and went to the back of the boats in the bay. He picked up the heaviest fish of the day there (5lbs 3ozs) along with another 5. Towards the end of the session they moved to the harbour area where Kevin dropped one.
Andrew Barrowman - Granite City FF
17th - 8 fish for 15lbs 9.5ozs
Andrew was drawn with Stuart Pickard of Wales who won the toss and opted to start at Church Bay. Andrew fished three buzzers under a bung and took 6 fish there throughout most of the day. About 2pm they moved out to open water where he picked up one pulling a blob on a 5 sweep. They later returned to the bay where Andrew picked up his last fish to finish with 8.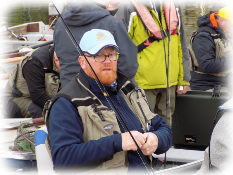 Spring International





Fish
Lbs
Ozs

1st

England

109

229

2

2nd
Scotland
84
184
13
3rd
Wales
78
163
7
4th
Ireland
70
148
15
Scottish Team - Individual Positions

(For full result - www.iffa.net)

position


fish
lbs
ozs
8th
Keith Renton
Coldstream & District AA
9
9
13
13th
Derek Marklow
Loanhead & District AC
8
17
8
14th
Ronnie Gilbert
Menteith Ospreys
8
17
3
15th
Kevin McCabe(captain)
Change FF AC
7
17
1
17th
Andrew Barrowman
Granite City FF
8
15
9.5
19th
Grant Osler
Future FF
7
15
2
20th
Stuart McLean
East Kilbride AC
7
14
14
25th
Peter Cameron
Househillmuir FF
5
13
1.5
27th
Paul Garner
Alba Orvis FF
5
12
3
32nd
Greig Davie
Thalassa AC
5
10
14
38th
Martin McCafferty
Future FF
4
8
10
39th
Gregor Fleming
Bridge of Weir Loch AC
4
8
9
40th
Alan Porteous
Dounreay FFA
4
8
8
47th
James Kerr
Firecats AC
3
5
13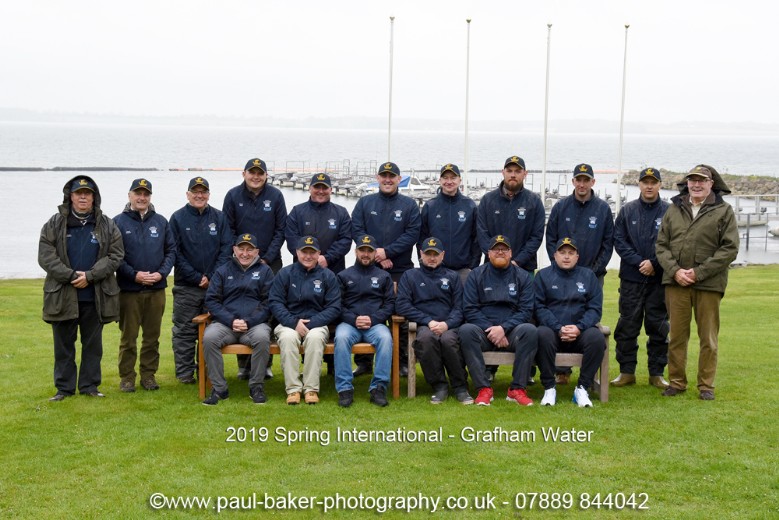 Team Scotland - Spring International - Grafham
Back Row: George Mackenzie (IFFA President), Keith Renton, Derek Keenan (Manager), Grant Osler, Ronnie Gilbert, Martin McCafferty, Paul Garner, Stuart McLean, Greig Davie, James Kerr and Ian Campbell (IFFA Secretary)
Front Row: Derek Marklow, Kevin McCabe (Captain), Peter Cameron, Alan Porteous, Andrew Barrowman and Gregor Fleming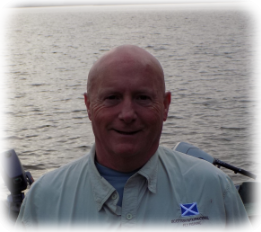 Kevin McCabe (Captain)
Scottish National Champion 2013, Phoenix Silver Salver Autumn 2011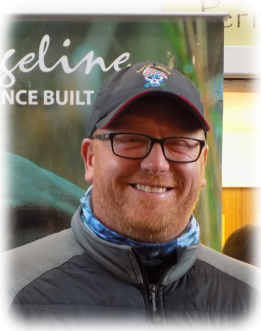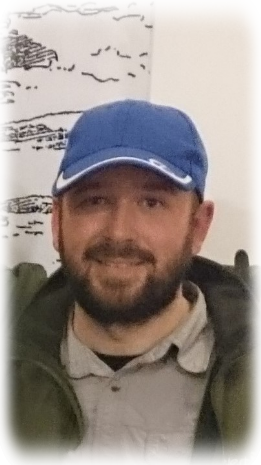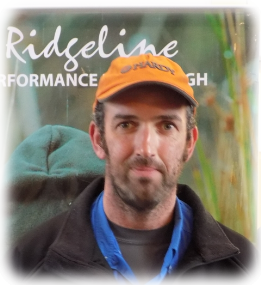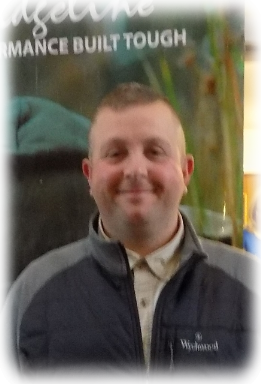 Gregor Fleming
Club: Bridge of Weir (Loch) AC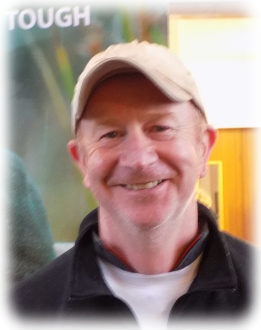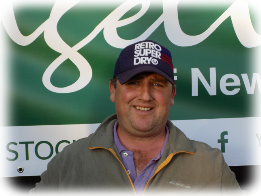 Scottish National Champion 2008 and 2014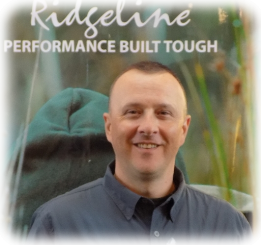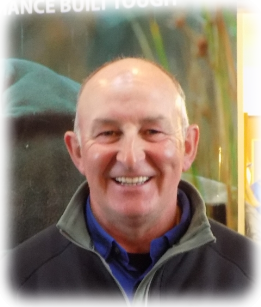 Derek Marklow
Club: Loanhead & District AC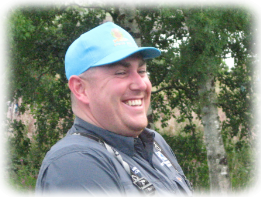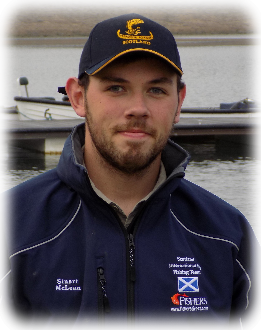 Stuart McLean
Phoenix Silver Salver Spring 2017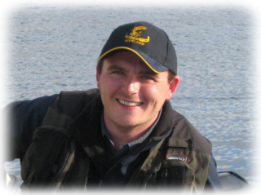 Grant Osler
Brown Bowl and Phoenix Silver Salver Autumn 2018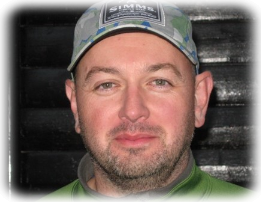 Alan Porteous
Phoenix Silver Salver Autumn 2010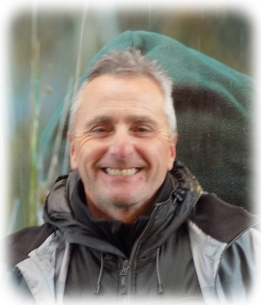 Keith Renton
Club: Coldstream & District AA