Scottish National Trout Fly Fishing Championship
Sponsored by Ridgeline UK
7plus7 Construction and R & E Hygiene

Scottish National Trout Fly Fishing Championship
Sponsored by Ridgeline UK, 7Plus7 Construction and R & E Hygiene
Heat 3 - Loch Leven 18th June 2021
It was a tough day at Loch Leven for the third heat of the Scottish National Trout Fly Fishing Championship with only 3 anglers out of the 11 who took part catching a fish. Top rod was Mick Thomson of Dalry Garnock with 1 trout for 2lb 8ozs. Ewan Scott of Canmore was second with a trout weighing 1lb 9ozs and third was Andy Kennedy of Dalry Garnock with a trout just under 1lb.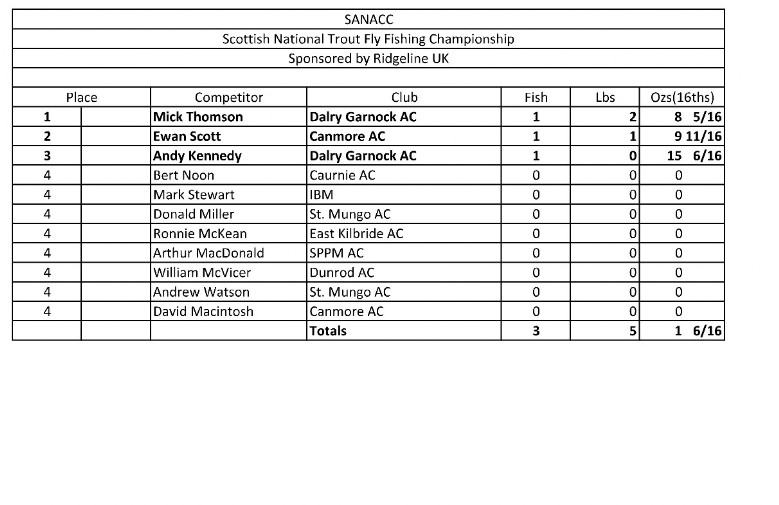 Scottish National Trout Fly Fishing Championship
Sponsored by Ridgeline UK, 7Plus7 Construction and R & E Hygiene
Heat 2 Carron 17th June 2021
Carron hosted the second of the 2021 National Championship heats and on a bright day with an unexpected strong breeze the 15 anglers caught a total of 66 fish. The top six qualified for the final. Top rod was Brian Kennedy of Caley Liners with 11 fish and in second, also with 11 fish, was Alan Smith of Aberdour AA. Brian will receive a Ridgeline Igloo fleece courtesy of our sponsors Ridgeline UK. In third place was Andrew Kennedy of Caley Liners with 9 fish. The session was fished as catch and release and the longest fish of the day was measured at 69cm and was caught by Brad Gair of Balfron Pescatorials.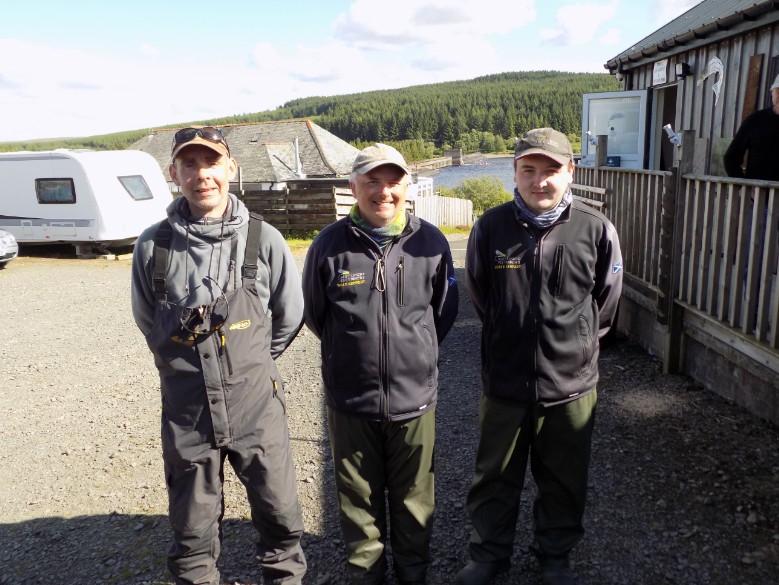 National Championship Heat 2 Carron
Top 3 (left to right)
Alan Smith, Brian Kennedy and Andrew Kennedy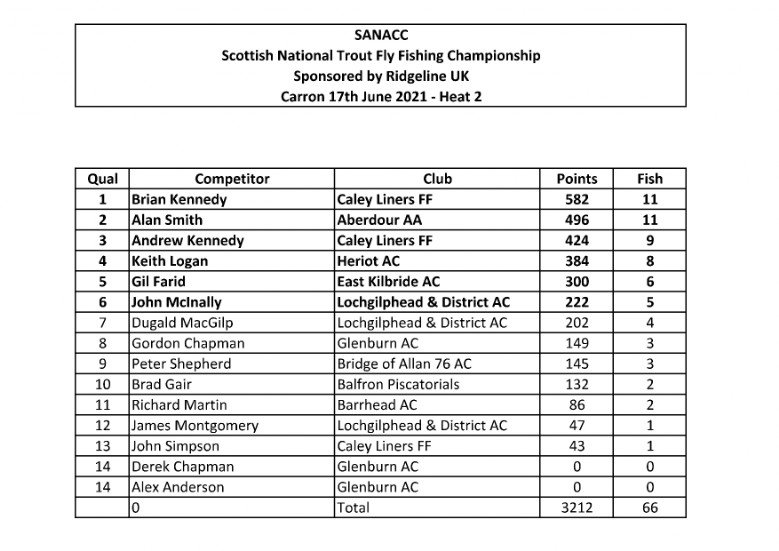 Scottish National Trout Fly Fishing Championship
Sponsored by Ridgeline UK, 7Plus7 Construction and R & E Hygiene
Heat No 1 - Lintrathen 15th June 2021
The Scottish National Championship resumed at Lintrathen on 15th June with the first of the 2021 heats. We had to miss 2020 due to covid but Lintrathen couldn't have got us off to a better start with cloudy conditions and a good head of fish looking to be caught. Top rod was Douglas Beckett of Aberdour AA with 20 fish. Douglas will receive a Ridgeline Igloo fleece courtesy of our sponsors Ridgeline UK. Close behind in second was George Whyte of St Fillans & Lochearn AA with 18 fish and in third with 14 fish was Lee Anderson of Gateside FC. Sixteen anglers took part and netted 131 fish. The top seven will go through to the final.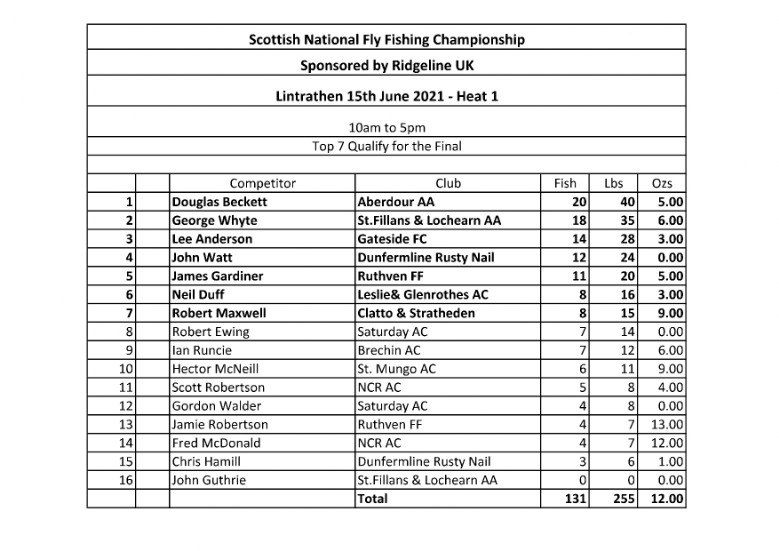 Safety
: When there is thunder or lightning all competitors must leave the water and must not return until 30 minutes after the last electrical activity. If due to the extent of electrical activity it is unsafe to return to the water within one hour of the first event or if after resuming fishing there is further electrical activity the competition will be stopped. Competitions may be postponed if electrical activity, temperature or wind strength make it unsafe to go ahead
AFTER the relevant draw has been published a change of heats will only be allowed in exceptional circumstances.
Individuals will only be permitted an extenuating circumstances change once every three years.
Competitors will however be permitted to arrange a mutual swap with a competitor in another heat or semi-final.
At the prelim stage only, clubs may change their representative on the day.
When registering with the officials at the venue the new representative should advise who is being replaced and must provide their own contact details in writing.
Anglers should register at least 30 minutes before the start time.
If you need to withdraw from the competition please contact the National Championship Secretary immediately.
The officials will usually be at the venues at least 1 hour before the start and can be contacted via the fishery if you have a last minute problem.
During Catch & Release all hooks must be debarbed or barbless and double hooks are not permitted.
The competition at Carron will be fully catch and release with all fish being measured, recorded and returned.
The minimum size is 20cm.
20 points plus 1 point for each centimetre of length will be awarded for each fish.
The competitions at
Leven, Lintrathen and Menteith will have a bag limit of three fish followed by catch and release. The catch and release allowance and cap weight for fish at each venue are as follows:-
Lintrathen – Trout capped at 3lb; catch and release allowance 1.5lb; size for brown trout – 11inches.
Menteith – Trout capped at 4lb with allowance of 2lb for returned trout.
Leven – Trout capped at 2.5lbs with allowance of 1.25lb for returned trout. All venues to be measured to the fork of the tail.
Competition rules are displayed on the SANACC website at www.sanacc.org.uk.
On the left hand menu go to "About Us" and then to "Competition Rules"
Mick Moran, National Championship Secretary.
Tel 01698 262965 – email: michaelmoran1@btinternet.com.